Landscape Design Services
Services Available
Design Consultation:

Request a consultation and we'll schedule a time to meet with you to walk through your existing
landscape, assess your needs, discuss possible changes, and offer suggestions for improvement. A typical consultation is 1-2 hours in length. If you would like an estimate for a design plan or crew work, we will follow up with a written proposal outlining the project and related costs.


Design Work:

We can create plant lists, conceptual drawings, or detailed planting plans. Planting plans are drawn to scale and provide a map of the areas to be planted and include details such as the name, quantity, and placement of individual plants. With a plan, you will receive plant lists, plant palette sheets and, if requested, an estimate to install the project. Design work during installation includes meeting with the
landscape crew on site, addressing any issues that may arise, and laying out the areas for planting.

Garden Coaching:

Garden coaching is geared toward the gardener who is seeking hands-on, professional, site-specific assessment of and suggestions for their existing gardens or a new gardening project. "What is this plant?", "Is this a weed?", "How can I have color all season long ?", "How can I make use of  this wet  area?", "How do I prune this?", " I want birds to come to my garden!" and more are all questions our garden coaches can answer! If you live outside of our existing range, we are happy to meet with you onsite at Natureworks. Sessions typically last 1-2 hours.
Natureworks service area includes:
Bethany—Branford—Clinton—Durham—East Haven—Guilford—Hamden—Killingworth—Madison—Middlefield/Middletown—New Haven—North Branford—North Haven—Northford—Wallingford—Westbrook—Woodbridge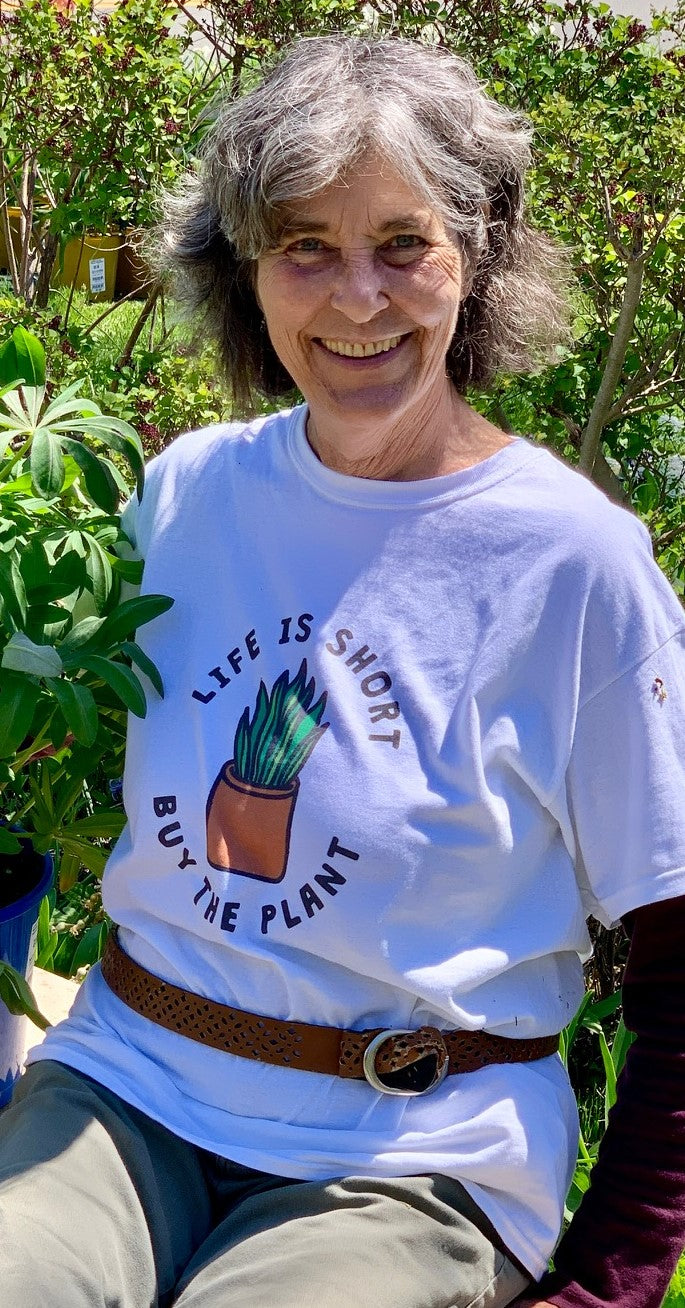 Nancy DuBrule-Clemente
Nancy DuBrule-Clemente is the founder of Natureworks. She started the business in 1983 with a goal of providing organic gardening services to the community and sold her business to a group of her employees in 2021. She continues to work with Natureworks writing the weekly email, working occasionally at the garden center, doing a limited amount of garden design, and supervising garden installations for existing clients. Her focus is on supporting pollinators, creating healthy habitats, encouraging native plants, and offering unusual plants to serious gardeners. Nancy graduated from the Rackliffe Hicks School of Agriculture in the 70's. She has written two books and gives talks throughout the state on a wide range of subjects. Nancy is a total garden geek and a passionate organic gardener. 
Rebecca Holley

Rebecca Holley received a BS in Mathematics from Lehigh University and a BS in Horticulture from UConn. She is Certified Accredited Nursery Professional. Rebecca began working at Natureworks in 1997.  She started as a member of the crew to gain practical experience. She then became Nancy DuBrule-Clemente's design assistant. Rebecca is now in charge of scheduling the crews, interfacing with new and existing customers, estimating jobs, tracing and inputting Nancy's plans, as well as all landscape and design billing. She is a member of the Natureworks Board of Directors.

Leslie Martino

Joining the Natureworks team in 2018, Leslie's designs connect the client with their natural environment by creating highly functional, visually intriguing, ecologically focused landscapes and garden spaces.


Working closely with clients to determine their needs and interests, her solutions aim to aesthetically please and inform the natural processes in the garden. Utilizing native plants, whenever possible, to achieve garden solutions, is a clear focus of her work. In addition to residential designs, Leslie's work
has included designs for parkland, gardens with historic influences, and municipal memorial gardens.


Leslie received her training at Harvard University's Landscape Institute in both Landscape Design and Landscape History. She has been actively involvement in the management of her local land trust, as well as chairing the National Garden Club's CT Chapter of Landscape Design School. She lectures on a variety of gardening topics throughout the state. Additionally, she enjoys creating and teaching floral design, as well as her role as a National Garden Club Life Flower Show Judge. Leslie is a Certified Accredited Nursery Professional.

Jennifer Cheng

Garden CoachCert. Landscape Design (APLD); Horticulture (NALP); Connecticut Accredited Nursery Professional (CNLA)

Jennifer is an avid gardener (read: total plant geek who took a car-full of houseplants to college) and educator who loves to help others see the potential waiting to be realized in their own gardens, whether
ample or tiny, and learn how to achieve beautiful results themselves. With a passion for creating ecologically and people-friendly outdoor environments that reflect the person's style and goals, she is always excited to meet and work with other gardeners – or gardeners-to-be – who want to learn the what, why, and how of "right plant, right place, right care" to achieve a space that will bring a spark of oy for years to come.

Susan Sternberg

There are many challenges facing garden designers when encountering a property including water issues, soil issues, invasive plants, small properties with sight line issues, and large properties with vast amounts of lawn. With each, Susan brings an awareness of the need to address our climate and habitat challenges to her garden designs with a strong use of native plants.

Susan has worked for Natureworks since 2006 in multiple capacities and now as one of the primary garden designers. She is active in volunteer community gardening, has sat on her Town's Tree Commission, maintains a vegetable garden in a community garden setting, and continues her ongoing horticulture education via seminars and conferences many of which are dedicated to a more sustainable and native vision of landscape design.

Her own award winning garden (2022 Mill River Watershed Residential Green Award) is exemplary of her philosophy: an abundance of native plants with successional blooming periods and ground-covering plantings that are dense and act as living mulch. Her garden is where she "test drives" plants observing how they move in the garden through seed, stolon and stem.
Her goal and pleasure is to create an immersive experience that is also a hub for birds, insects and human's alike. 
Consults
Consults with the Leslie Martino and Susan Sternberg $100 per hour plus tax
Consult with Nancy DuBrule-Clemente $125 per hour plus tax